TOYS THAT KILL "Fambly 42" LP / CD / CASS (RECORDED AT CLOWN SOUND)
...And after 12 years, they've turned this into some kind of science. There's a chord change in "Nervous Rocks" or "Freddy And His Mother" that's a Toys That Kill signature, where the song bends in a way you don't expect and barrels right through the center of you. There's a beat on "V Chip" or "I've Been Stabbed" that just about breaks the song in half...READ MORE
STREAM THE WHOLE ALBUM HERE!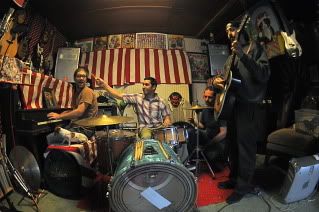 TOYS THAT KILL TOUR!
May 25th Oakland,CA at the New Parish (1234go Records Fest) ~ May 26th Sacramento,CA at Luigi's Fun Garden + May 28th Las Vegas,NV at Punk Rock Bowling May 29th Albuquerque,NM at the Gasworks May 30th Denton,TX at Rubber Gloves / May 31st Austin,TX Chaos in Tejas at the Parish $ June 1st Austin,TX day off at Chaos in Tejas June 2nd Las Cruces,NM at the Trainyard June 3rd Phoenix,AZ at the Meat Market July 15th Los Angeles, CA at The Fonda * July 20th Pomona, CA at VLHS % July 24th Los Angeles, CA at Blue Star % July 26th-29th Hawaii (TBA) % October 26th - 28th Gainesville, FL at The Fest ~ = w/ the Avengers and the Fleshies + = w/ the Bananas, Ennui Trust and RAD / = w/ Joyce Manor, Culo, Gas Chamber and Koward $ = w/ Pierced Arrows,Tenement,Gun Outfit,Teenage Cool Kids and more! * = w/ Screeching Weasel and The Queers % = w/ Night Birds